Lidocaine 4% Patch, 20 patches
$18
per 20 patch pouch
per 20 patch pouch
---
---
A lidocaine patch that has it all! This flexible fabric lidocaine 4% patch is easy to use yet sticks well so it stays in place, and a lidocaine patch any stronger would require a doctor's prescription and cost almost $1,000 (seriously, check out Lidoderm RX 5% Lidocaine Patch). 
Patch Info: Lidocaine 4% 3" x 5" patch, 20 per resealable pouch
Lowest Price Guarantee: If you find a lidocaine 4% patch priced lower per patch at another retailer within 60 days of purchase, send us an email and we'll refund the difference! Details here.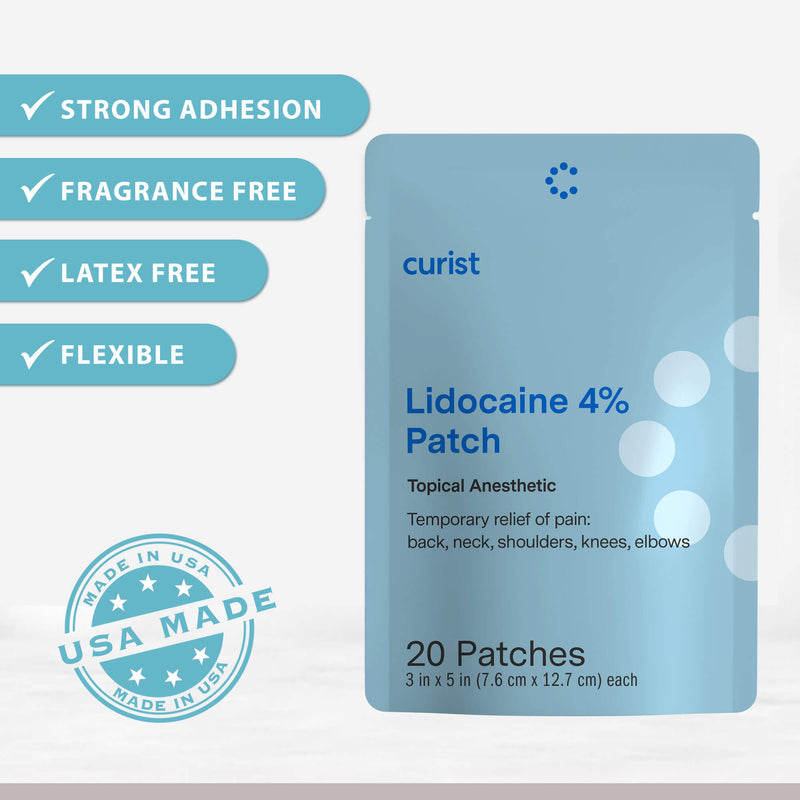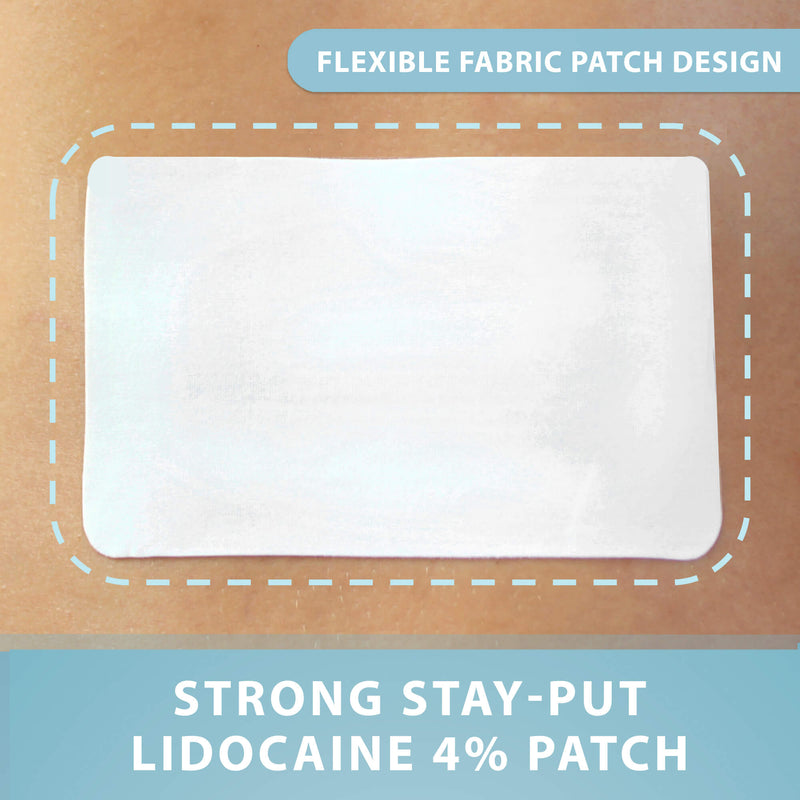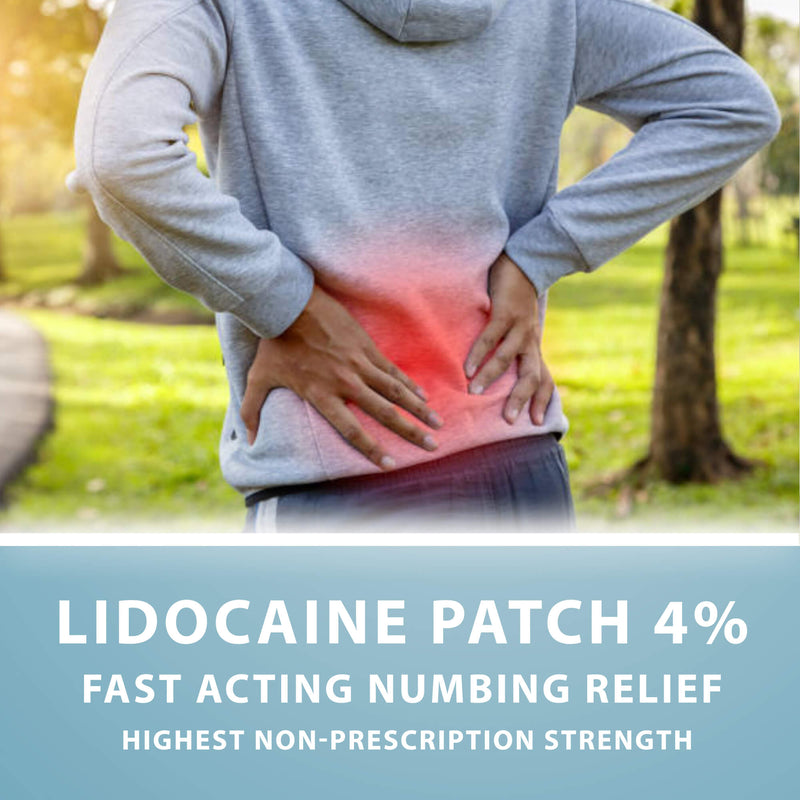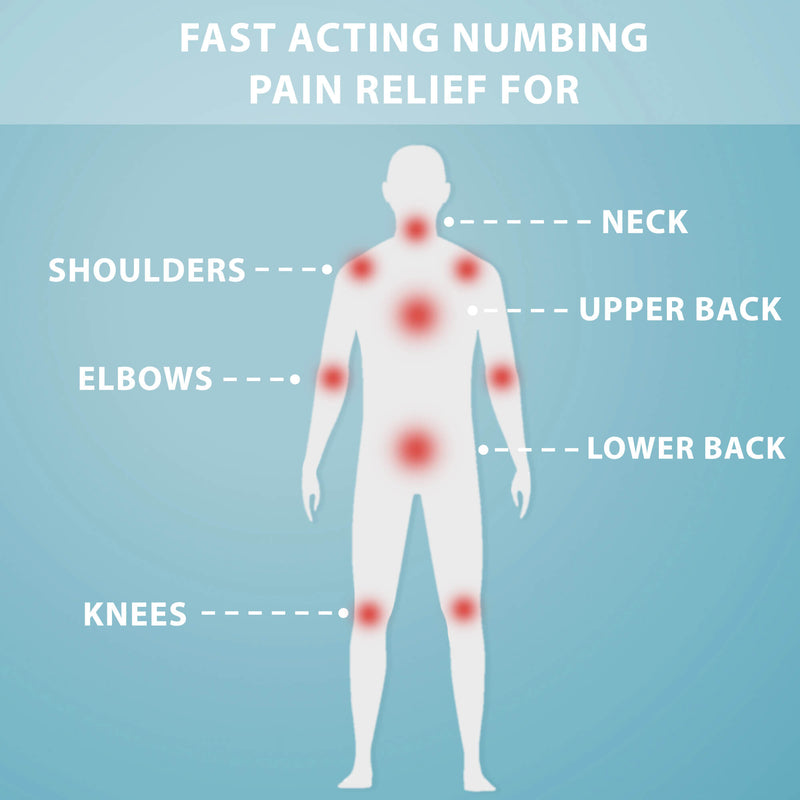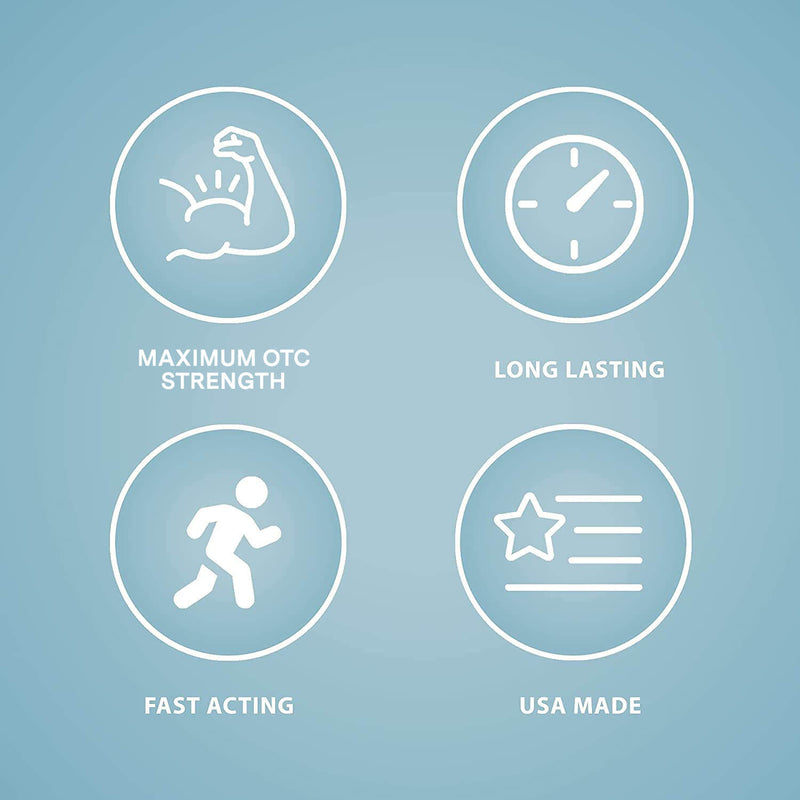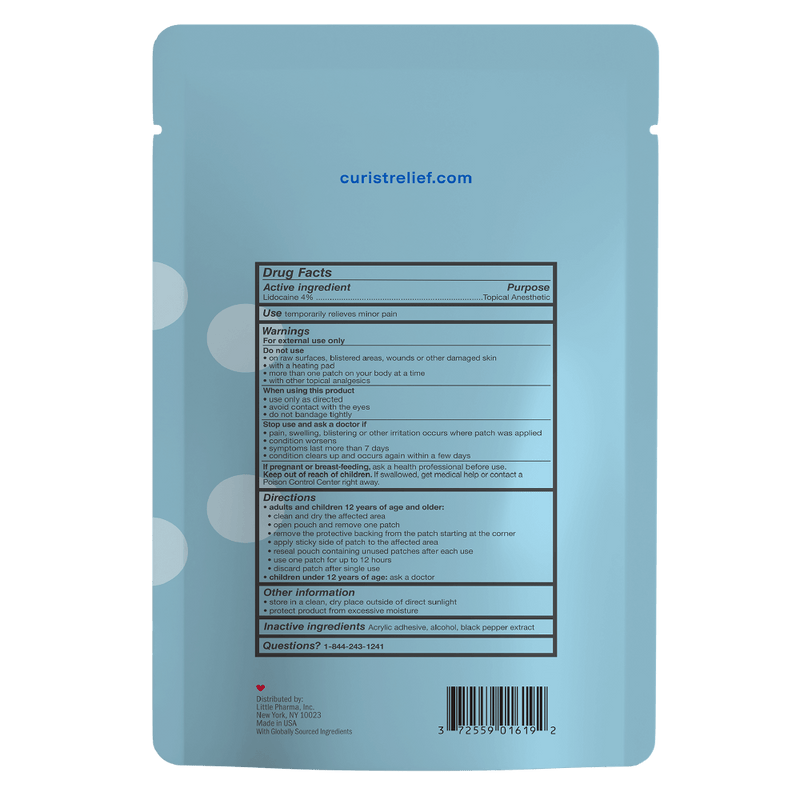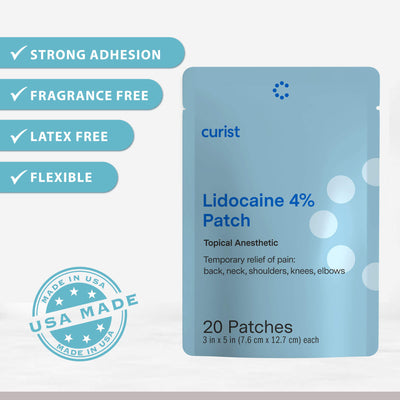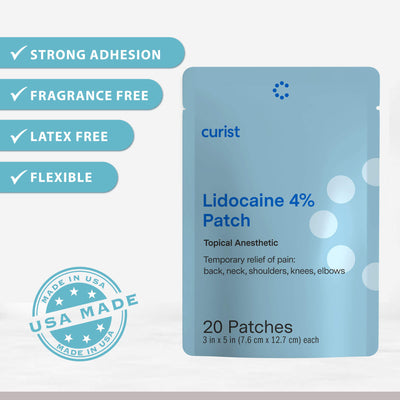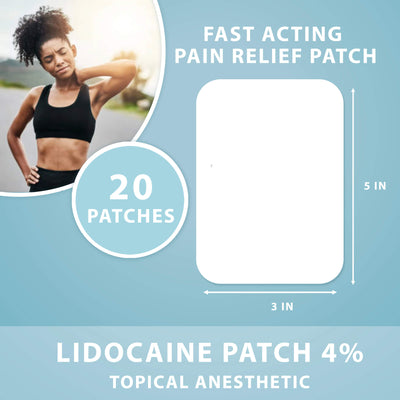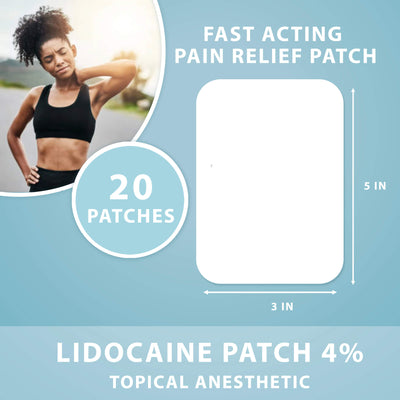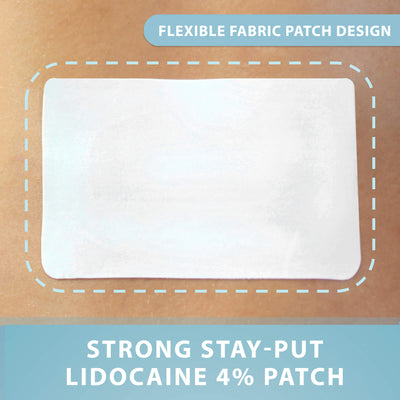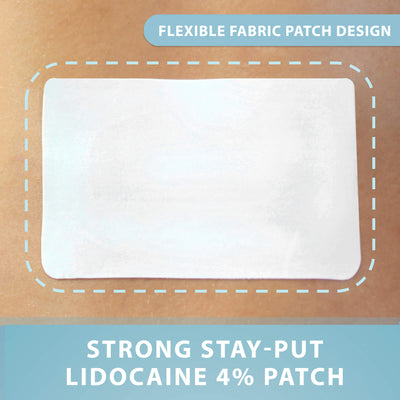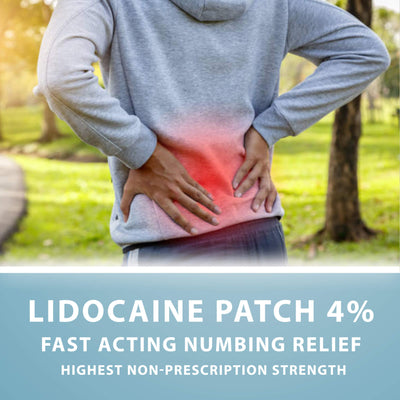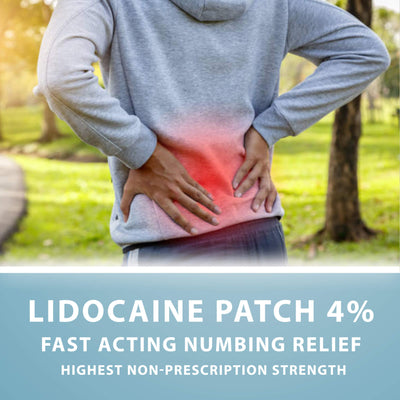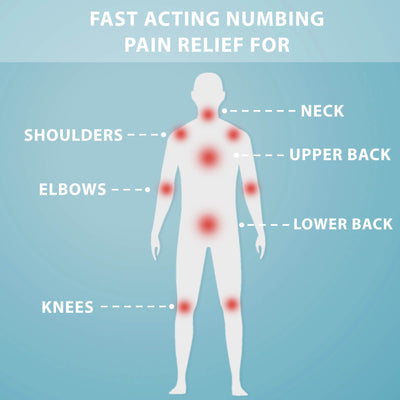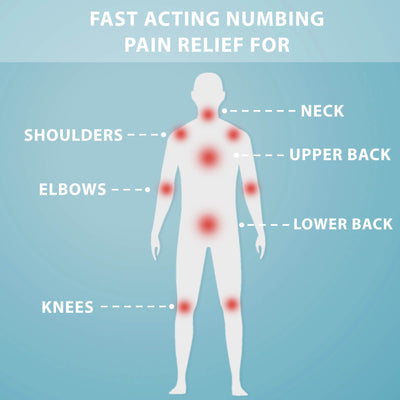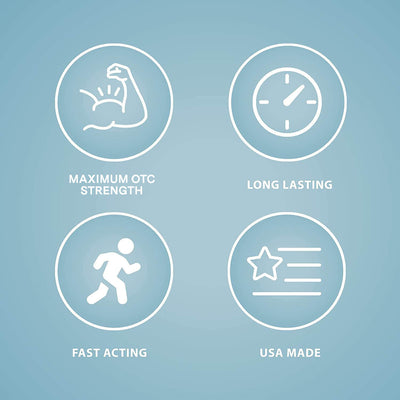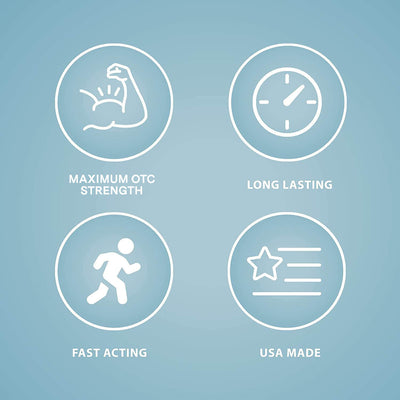 Lidocaine 4%

Fast Acting

Strong Adhesive

Value Size

Made in USA*
Are You...
Looking for pain relief for your back, neck and shoulders?
*with globally sourced ingredients
Good For
Relief from minor aches and pains from back, neck, shoulders, knees, and elbows
Not For
Lidocaine Patch 4%
Strongest Lidocaine Patch Available OTC
Curist Lidocaine Patch 4% is a topical anesthetic that numbs pain by blocking the nerve signals in your skin. Our lidocaine patch is flexible and adhesive, delivering the maximum strength lidocaine without a prescription!
Doctor Pro Tip
"Lidocaine belongs to the family of medicines called local anesthetics. This medicine prevents pain by blocking the signals at the nerve endings in the skin."
Mayo Clinic
Everything you need to know about lidocaine patches
Lidocaine Patch 4% FAQ
---
Non-prescription lidocaine transdermal patches come as a lidocaine 4% strength patch to apply to the skin. The lidocaine patch can be used for up to 3 times daily and for no more than 12 hours per application. Use lidocaine patches exactly as directed. Do not use lidocaine patches more often or for a longer period of time unless directed to do so.
---
Lidocaine patch 4% starts to work pretty quickly. Most people can expect some pain relief on the first day of using the patch; however, for some, it can take up to 2-4 weeks using the patch every day before full effects are seen.
---
The strongest lidocaine patch available on the market over-the-counter is lidocaine 4%. Strengths above 4% require a doctor visit and prescription. Curist Lidocaine Patch contains lidocaine 4%, which is the strongest OTC lidocaine patch available.
---
Lidocaine patches are generally safe to use for adults and children over 12 years old if applied as directed by the manufacturer. Avoid applying lidocaine patch to puncture wounds, burns, cuts, or irritated or broken skin. Do not apply more than 1 patch on your body at a time, and most importantly do not apply local heat to areas of patch use. Be sure to wash your hands thoroughly before and after application. OTC lidocaine patches should only be used on the skin. Do not get it into your eyes, nose, or mouth. Some people may experience pain, swelling, blistering or other irritation where the patch was applied. If this happens to you, please stop use and discuss with your medical provider.

---
No, Curist Lidocaine Patch has no added scents or smells. The medical ingredients may have a slight smell, but most people do not even notice it.
---
Lidocaine 4% patch is intended for temporary relief of minor localized pain in areas such as the shoulders, arms, neck and legs in adults and children 12 years of age and older. Lidocaine 5% cream, on the other hand, is an FDA-approved local anesthetic for treating hemorrhoids and is safe to use in anorectal areas.
---
Curist Lidocaine 4% Patch is a made of a flexible, adhesive fabric.

---
Both lidocaine 4% and 5% patches contain the same medicine, lidocaine, which relieves pain by numbing the nerves and making them less sensitive to pain. Lidocaine 5% patch is a prescription medicine, used under the supervision of a doctor, and therefore can be used to treat nerve pain caused by shingles (postherpetic neuralgia) that require a diagnosis and supervision by your doctor. Lidocaine 4% patch, on the other hand, contains the maximum strength lidocaine available over the counter and it's designed to provide temporary relief of minor aches and pains to your shoulders, arms, neck and legs.
---
Yes, you can sleep with a lidocaine patch on but not for more than 12 hours. For effectiveness, we recommend you to use a heating pad for 15 minutes prior to bedtime; and then, apply the lidocaine patch before you go to sleep.
---
Curist Lidocaine Patch contains lidocaine 4% and it's designed to ease localized pain in your shoulders, arms, neck and legs areas. As a 4% lidocaine patch, Curist Lidocaine Patch is available without a prescription. Lidoderm, on the other hand, contains the same medicine (lidocaine) but contains lidocaine 5%, which is only available with a doctor prescription. Lidoderm, which is used under a doctor's supervision, is mainly used to relieve nerve pain after shingles (an infection with the Herpes Zoster virus), also known as postherpetic neuralgia.
---
Besides Lidocaine Patches, What Else Can Curist Help With?
A comprehensive guide to some of the most common questions about feeling your best.