Mucus Relief (guaifenesin 1200 mg), 150 ct
$46
per 150 count bottle
per 150 count bottle
"It's working perfectly!" - Aurelien F., Verified Buyer
---
---
Higher dose, extended-release relief from all the stuff that blocks you up - congestion, sinus pressure, and stuffy nose. And unlike Mucinex, our pills are free from dyes, color additives and salicylates.

Active Ingredient: Guaifenesin 1200 mg extended-release, 150 tablets
Compare To: Mucinex 1200 mg (but dye-free guaifenesin!)
Lowest Price Guarantee: If you find this medicine (guaifenesin 1200 mg) priced lower at another retailer within 60 days of purchase, send us an email and we'll refund the difference! Details here. 
*Maximum Strength among OTC products with the same active ingredient.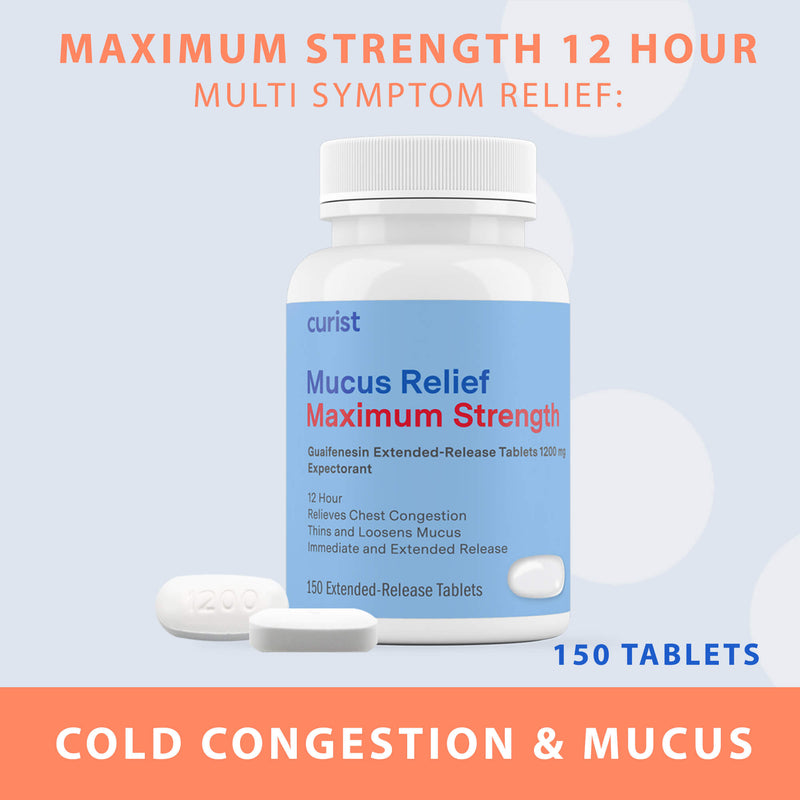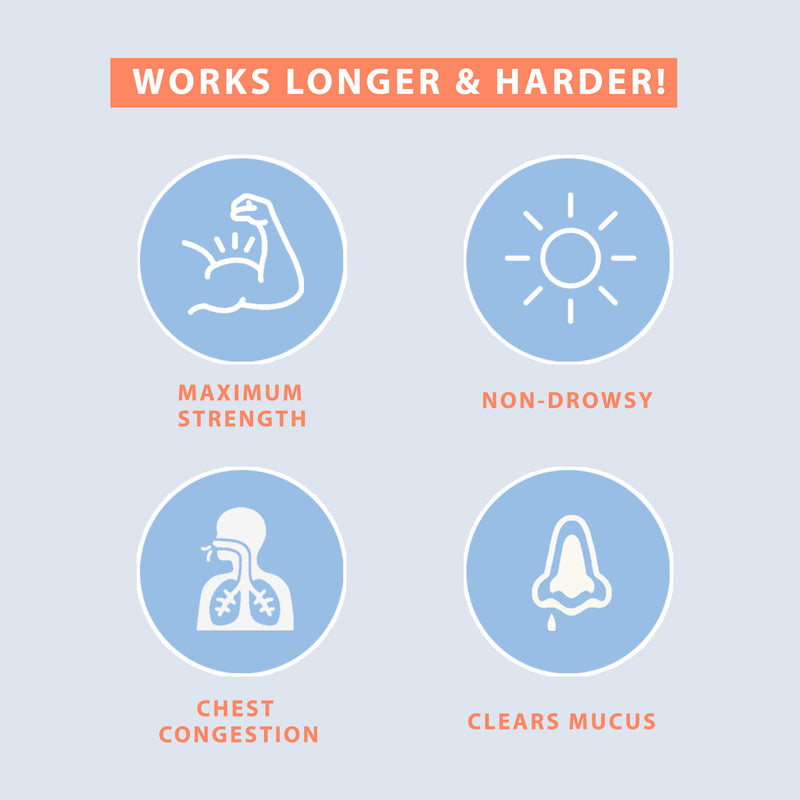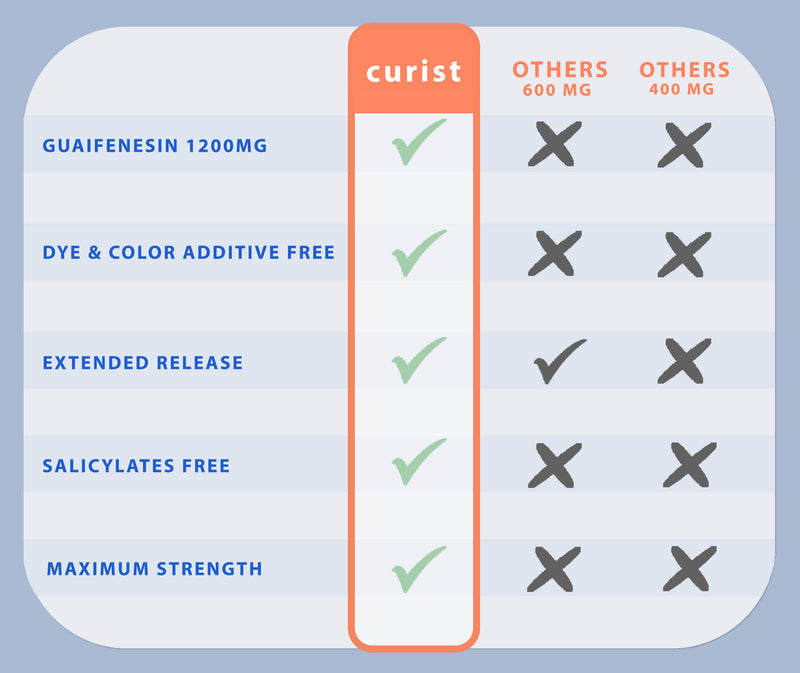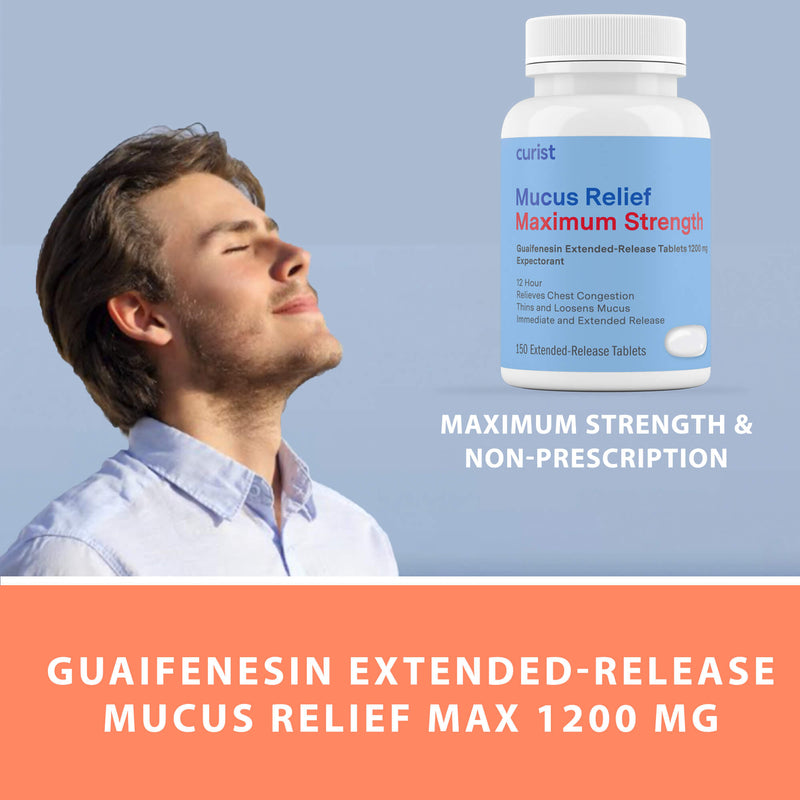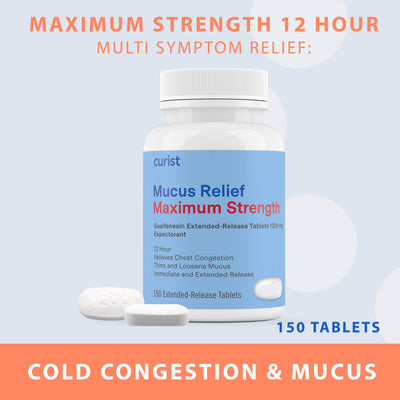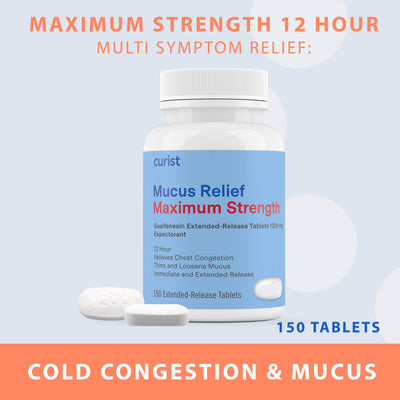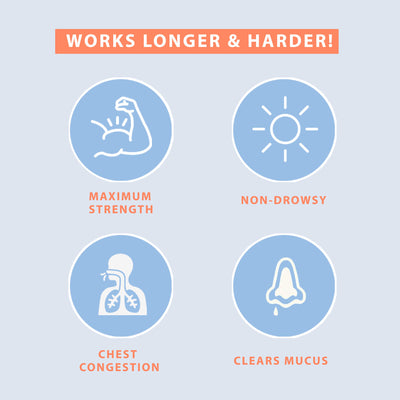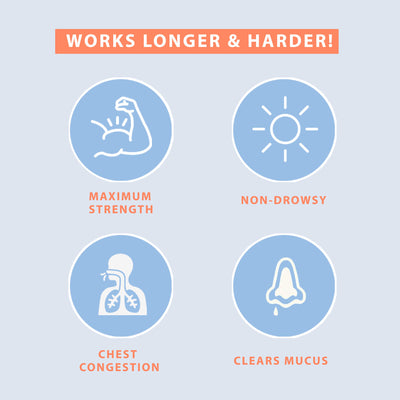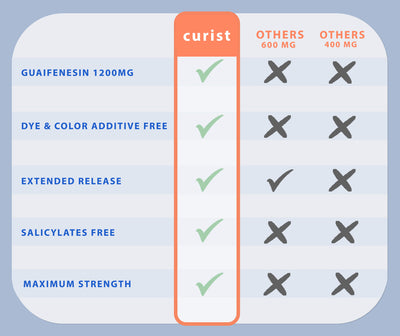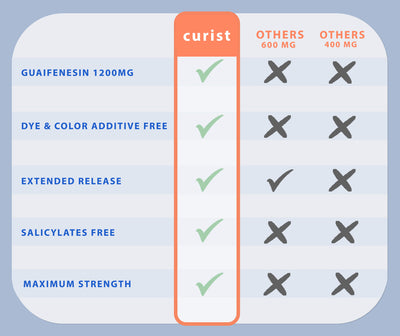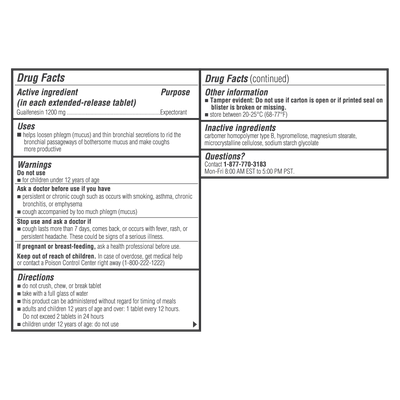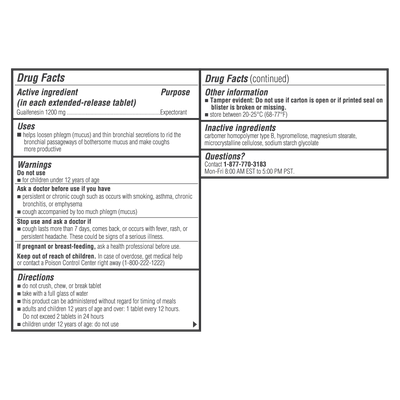 Extended Release

1200 mg

Value Size

Packaged in USA
Are You...
Suffering from congestion & stuffiness and want the most powerful relief out there?
Good For
Chest congestion from allergies, cold, flu etc.
Thinning, loosening, & clearing mucus
Not For
What's the secret in Mucus Relief (Guaifenesin 1200 mg)?
Curist Mucus Relief Guaifenesin 1200mg is our most powerful expectorant, helping you clear mucus and stuffiness. It's also free of additives like dyes & colors.
Doctor Pro Tip
"Unlike antihistamines which don't treat congestion, guaifenesin treats congestion and post-nasal drip often associated with allergies."
Dr. Marc Goldstein, MD
Chief of Allergy, Pennsylvania Hospital
Everything you need to know about Mucus Relief Guaifenesin 1200 mg
Guaifenesin 1200mg FAQ
---
Guaifenesin is an expectorant. It works by thinning and loosening mucus in your airways, clearing congestion, and making it easier for you to cough out through your mouth.
---
Guaifenesin 1200mg extended release is mainly used to treat coughs and congestion caused by common cold or flu. Guaifenesin 1200mg is not used to treat an ongoing cough from smoking or long-term breathing conditions (such as chronic bronchitis, asthma, emphysema) unless directed by your doctor.
---
Guaifenesin 1200mg starts to work pretty quickly. Most people can expect to feel its full effect within 30 minutes of taking; however, for some, it can take up to 2 days before full effects are seen after first taking guaifenesin 1200mg.
---
For adults and children 12 years of age and older, you may take 1 tablet of guaifenesin 1200mg every 12 hours. But do not exceed 2 tablets within 24 hours. Do not use this product in children under 12 years of age.
---
For adults or children 12 years of age or older, if guaifenesin 600mg does not provide you with adequate symptom relief, you may try taking guaifenesin 1200mg every 12 hours. However, if a cough persists for more than 7 days, comes back, or occurs with fever, rash, or persistent headache, stop using this product and consult your doctor immediately.
---
Curist Mucus Relief Guaifenesin 1200 mg and Mucinex 1200 mg are two brands that both contain the same medicine at the same strength, guaifenesin 1200 mg. Guaifenesin treats mucus and congestion caused by ailments like the common cold or flu. Curist Mucus Relief can be purchased online for much less than Mucinex 1200 mg and, unlike Mucinex, does not include any color dyes.
---
Unfortunately no, guaifenesin is an expectorant and does not help for a dry cough. Guaifeneisn helps loosen mucus so you can have more productive coughs but it does not stop coughing. It works by increasing the water content of the mucus, thinning it out, and making your cough more productive (aka wet cough). Dry cough, on the other hand, does not produce mucus and it can be treated by cough suppressants such as dextromethorphan.
---
Yes, Curist Mucus Relief Guaifenesin 1200mg is both dye-free (the tablets are all white in color) and salicylate-free.
---
Yes, there are generic versions of Mucinex 1200 mg which contain the same medicine, guaifenesin 1200 mg. For instance, both Mucinex 1200 mg and Curist Mucus Relief Guaifenesin 1200 mg have the same strength of guaifenesin (1200mg). So the mucus relief is the same, but Curist Mucus Relief Guaifenesin 1200 mg is much more affordable.
---
As an expectorant, guaifenesin 1200 mg does not commonly cause serious side effects but it can cause dizziness, drowsiness and rash. If any of these effects persist or worsen, consult your doctor or pharmacist promptly.
---
How Guaifenesin 1200 mg Can Help You?
Learn more about all things congestion (and especially how to get rid of it!)