Esomeprazole 20 mg Capsules (Nexium Generic), 42 Ct
$12
per 42 count box
per 42 count box
"Works great and an awesome value." - Elizabeth B., Verified Buyer

---
---
If you frequently experience heartburn, look no further! Our once-a-day capsule packs a punch by stopping stomach acid production cold. When treating frequent heartburn, it lasts longer and works harder than antacids and H2 blockers.
Active Ingredient: Esomeprazole magnesium 20 mg, 42 capsules
Compare To: Nexium 24HR
Lowest Price Guarantee: If you find this medicine (esomeprazole 20 mg) priced lower at another retailer within 60 days of purchase, send us an email and we'll refund the difference! Details here.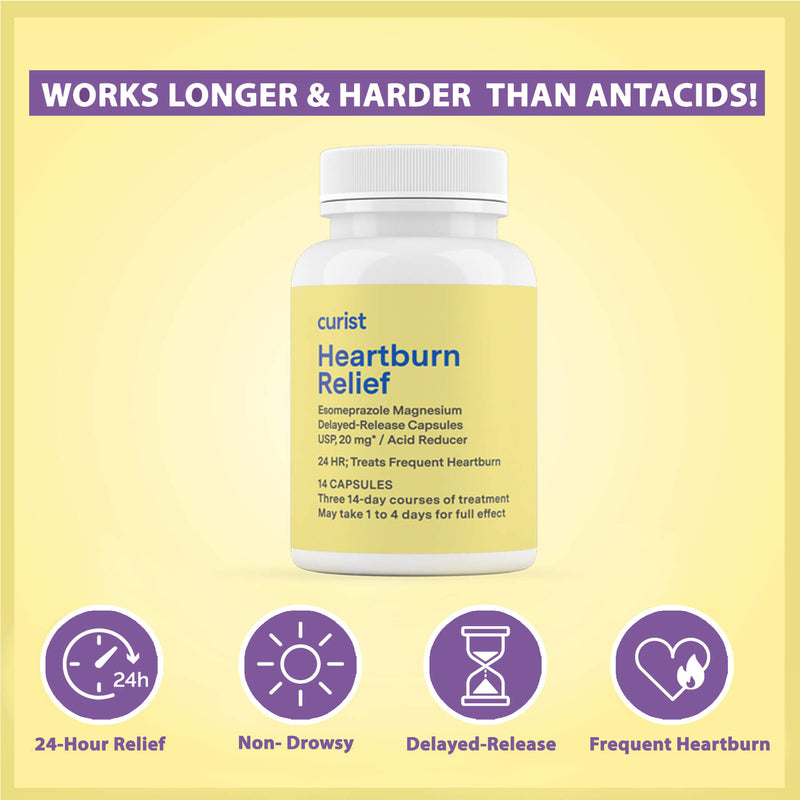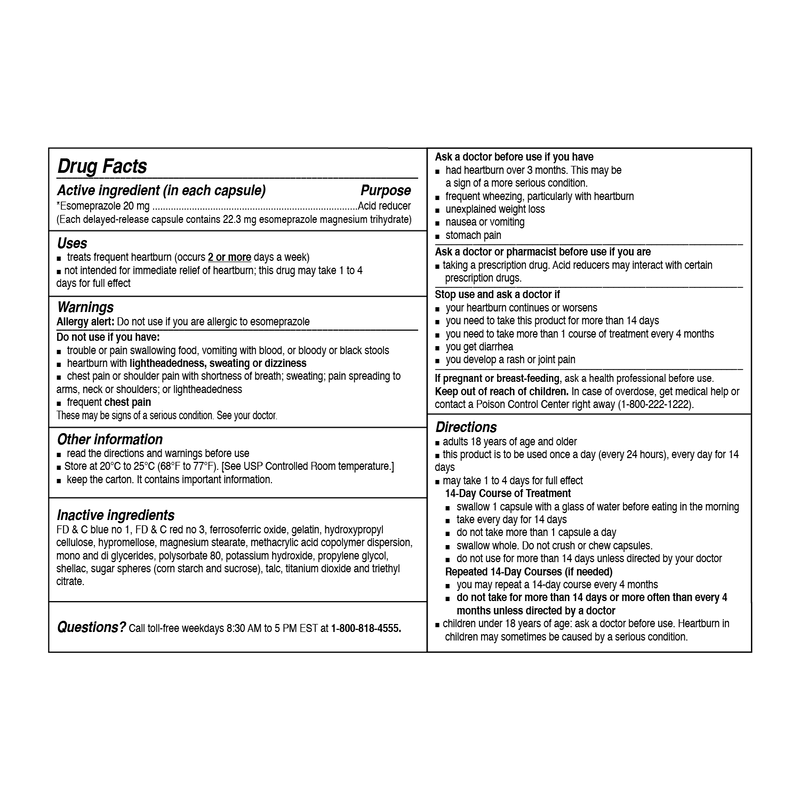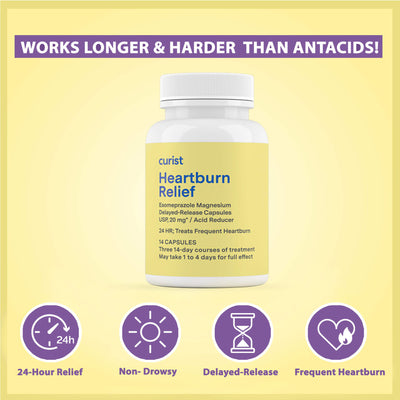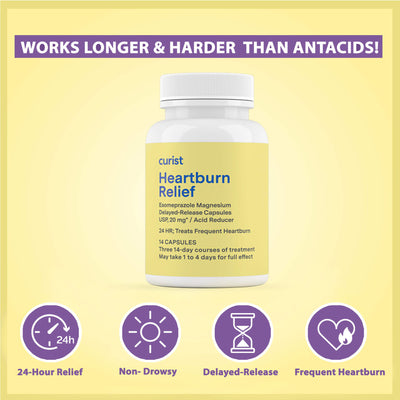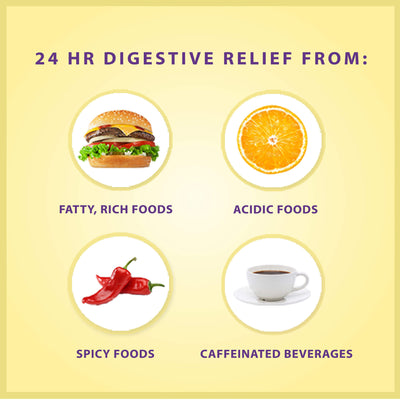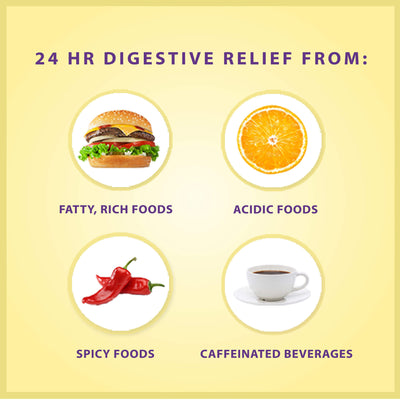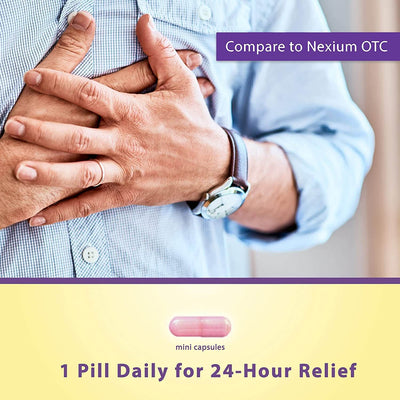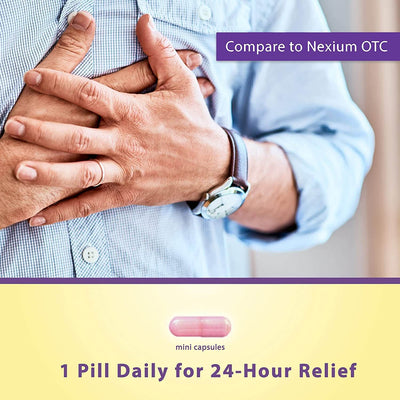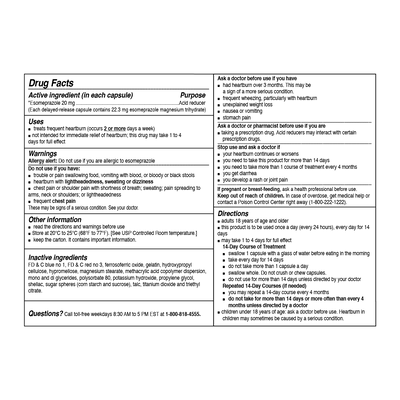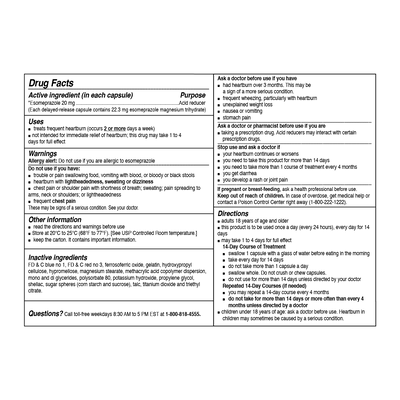 Daily Relief

Non-Drowsy

Delayed-Release (works through time)

Treats Frequent Heartburn

Value Savings
Are You...
Suffering from frequent heartburn and looking for acid relief that lasts?
Good For
Heartburn occuring 2 or more days a week
Burning chest pain after eating
Not For
Short-term, immediate heartburn relief

Chest pain with shortness of breath

Goodbye Nexium, Hello Savings
Why Is Esomeprazole Magnesium So Good at Stopping Heartburn?
Curist Heartburn Relief, or esomeprazole magnesium 20 mg if you're scientific, is a proton-pump inhibitor that literally stops the pumps in your stomach from creating acid that causes heartburn. When treating frequent heartburn, it blocks more acid than Pepcid and works longer than either Alka-Seltzer or Tums!
Usage Tips
1. When? An hour before your first meal.
2. With? A full glass of water.
3. How Often? Daily.
4. How Long? Be persistent! Take for 14 days for full effect.
Doctor Pro Tip
"Most people can manage the discomfort of heartburn on their own with lifestyle changes and over-the-counter medications."
Mayo Clinic
Everything you need to know about Esomeprazole
Esomeprazole 20 mg FAQ
---
Curist Heartburn Relief (esomeprazole 20 mg) is a proton-pump inhibitor. This class of over-the-counter medications is used to treat frequent heartburn that occurs 2 or more days per week. Esomeprazole works by decreasing the amount of stomach acid that the stomach produces and is more effective in providing long-lasting heartburn relief than H2 blockers (e.g. Pepcid®) or antacids (Tums®).
---
Curist Heartburn Relief (esomeprazole 20 mg OTC) is not intended for immediate relief of occasional heartburn. Many people get relief of heartburn symptoms within 24 hours, but it can sometimes take up to 4 days for full effect.
---
Curist Heartburn Relief (esomeprazole 20 mg) is a delayed-release capsule. A full course of treatment is 14 days: during the 14 days, take one capsule daily before eating. You should not take esomeprazole for more than 14 days or repeat a 14-day course more often than every 4 months unless directed by a doctor.
---
One course of treatment of Curist Heartburn Relief (esomeprazole OTC) is to take daily for 14 days. This course can be repeated for up to 3 times per year (i.e. every 4 months). You should not take each course for more than 14 days since long-term use can put you at risk for many health issues such as osteoporosis, low magnesium or vitamin B12 levels, and rebound acid secretion (where your body starts to create more acid than before after stopping these medications). For further details please discuss with your medical provider.
---
Esomeprazole is the medicine that is in the brand Nexium. There are many brands of esomeprazole, including Nexium and Curist Heartburn Relief. Both Nexium and Curist Heartburn Relief have the same strength of esomeprazole (20 mg), so the relief for heartburn and acid reflux is the same but Curist is available for half the price of Nexium.
---
Do NOT take esomeprazole OTC if you have:
Had an allergic reaction to esomeprazole in the past

Trouble or pain when swallowing food

Vomiting with blood

Bloody or black stools

Heartburn with lightheadedness, dizziness, or sweating

Chest pain, or shoulder pain with shortness of breath, or pain spreading to arms, neck, or shoulders

Osteoarthritis problems

Developed kidney damage
---
Esomeprazole RX and esomeprazole OTC both contain the same medicine, esomeprazole, which treats heartburn symptoms by reducing the production of stomach acid. Prescription esomeprazole is used under the supervision of a doctor, and therefore can be used to treat diseases (e.g. ulcer, residual symptoms of GERD, H.Pylori eradication, dyspepsia, etc.) that require a diagnosis and supervision by your doctor, while esomeprazole OTC only treats frequent episodes of heartburn symptoms.
---
Both esomeprazole and omeprazole are medicines called PPIs that treat heartburn. There are differences between esomeprazole and omeprazole in their chemical structure, to learn more read the Curist blog omeprazole vs esomeprazole.
---
Overall, scientists and clinicians have agreed that both esomeprazole and omeprazole have the same effects, and that one is not superior to the other. While both esomeprazole and omeprazole generally offer the same level of benefits, it may just come down to personal preference (e.g. with the least amount of side effects) and cost. If you take other medications or have any medical conditions, we recommend you to consult your healthcare provider first. To learn more, read the Curist blog omeprazole vs esomeprazole.
---
Is Esomeprazole The Best Heartburn Medicine For You?
A quick guide to some of the most common questions about esomeprazole, heartburn and acid reflux.