Arthritis Relief (diclofenac gel 1%), 150 g
$14
per 150 g (5.29 oz) tube
per 150 g (5.29 oz) tube
---
---
Looking to relieve arthritis pain without more pills? The search is over! Our pharmaceutical grade arthritis gel delivers powerful relief to the hands, wrists, elbows, feet, ankles, and knees so that you can get back to doing what you do best – living life. 
Active Ingredient: Diclofenac sodium gel 1%, 5.29 oz (150 g)
Compare To: Voltaren Arthritis Pain Gel 
Lowest Price Guarantee: If you find this medicine (diclofenac sodium gel 1%) priced lower per ounce at another retailer within 60 days of purchase, send us an email and we'll refund the difference! Details here.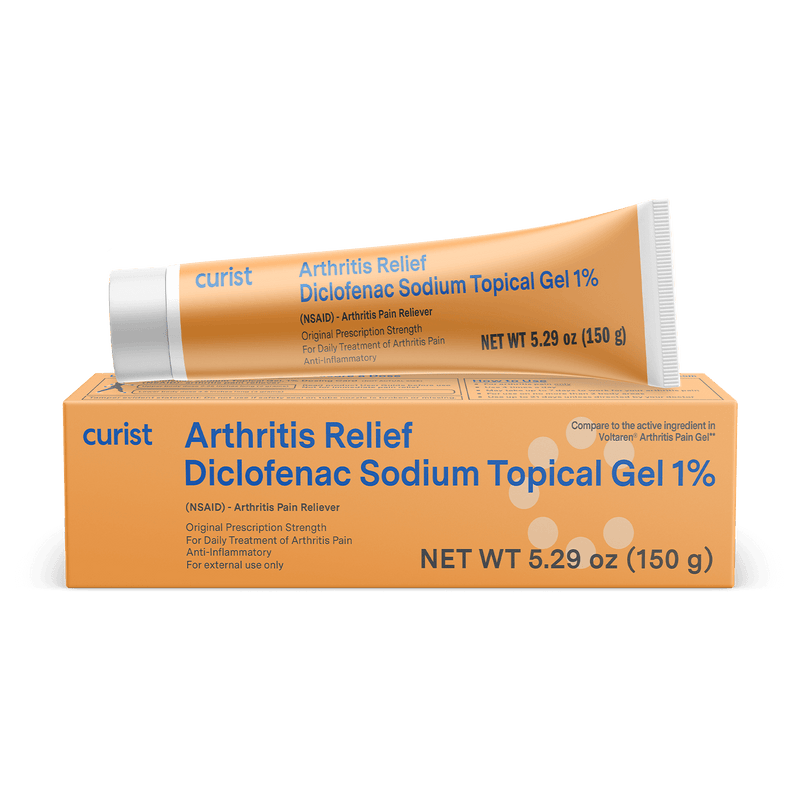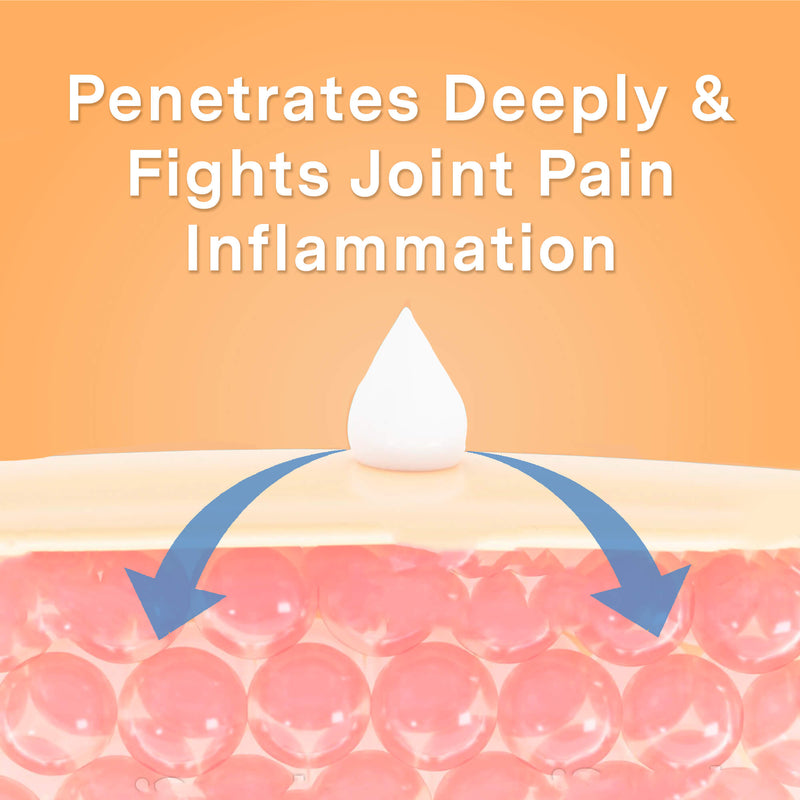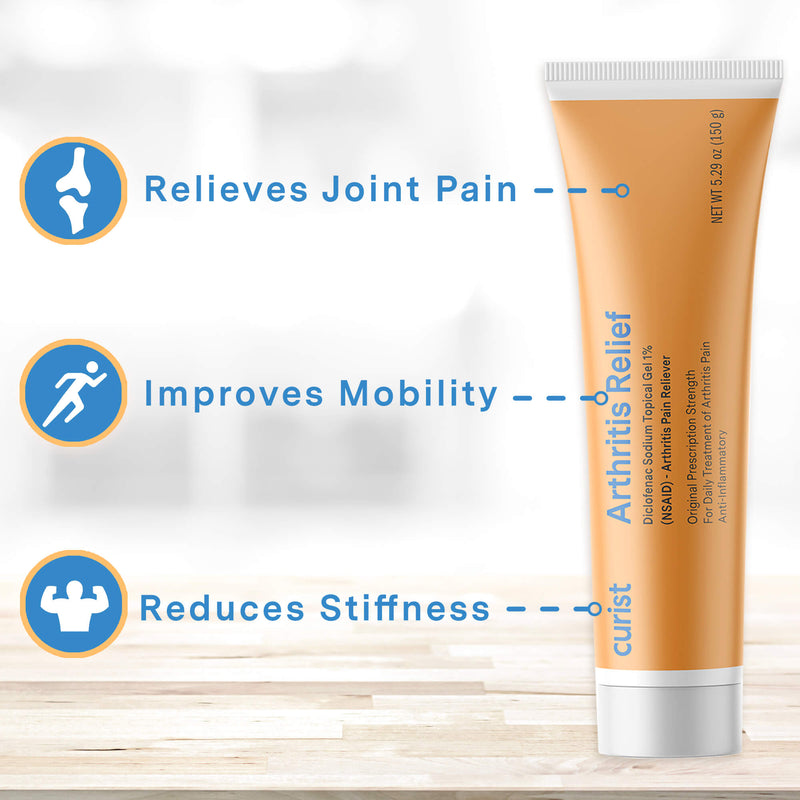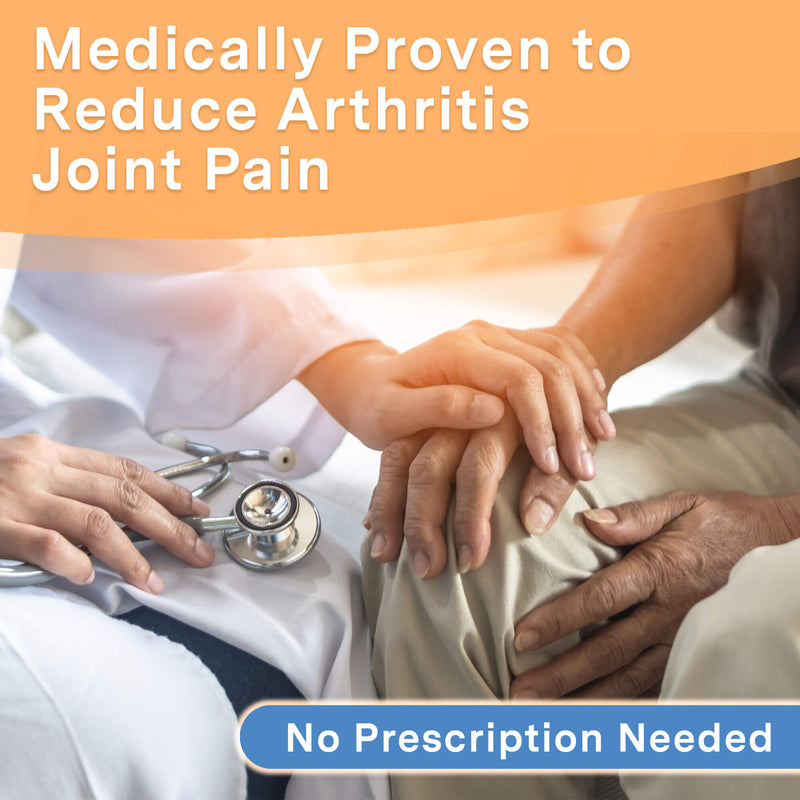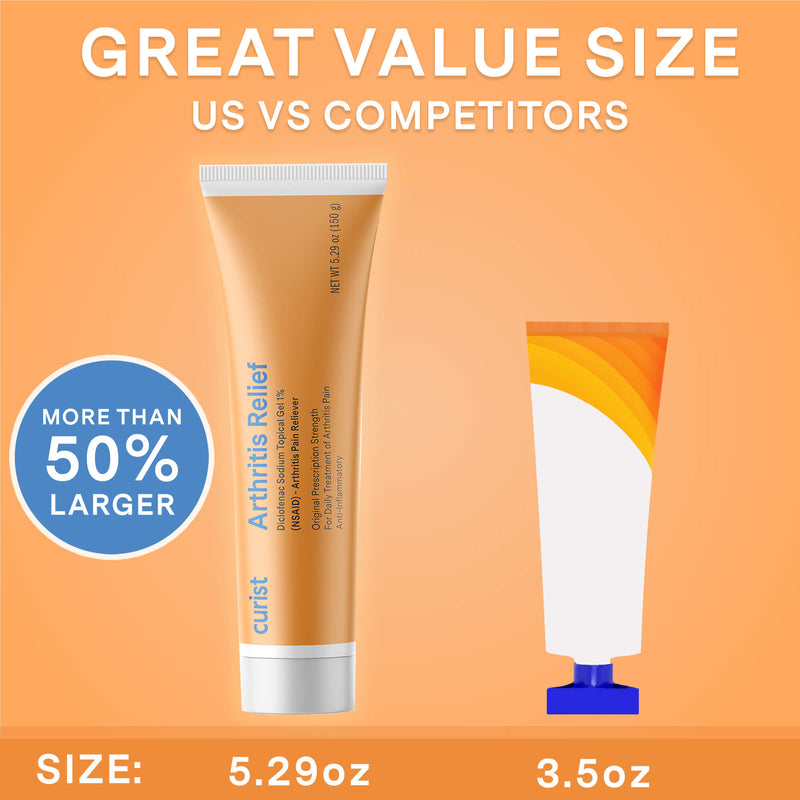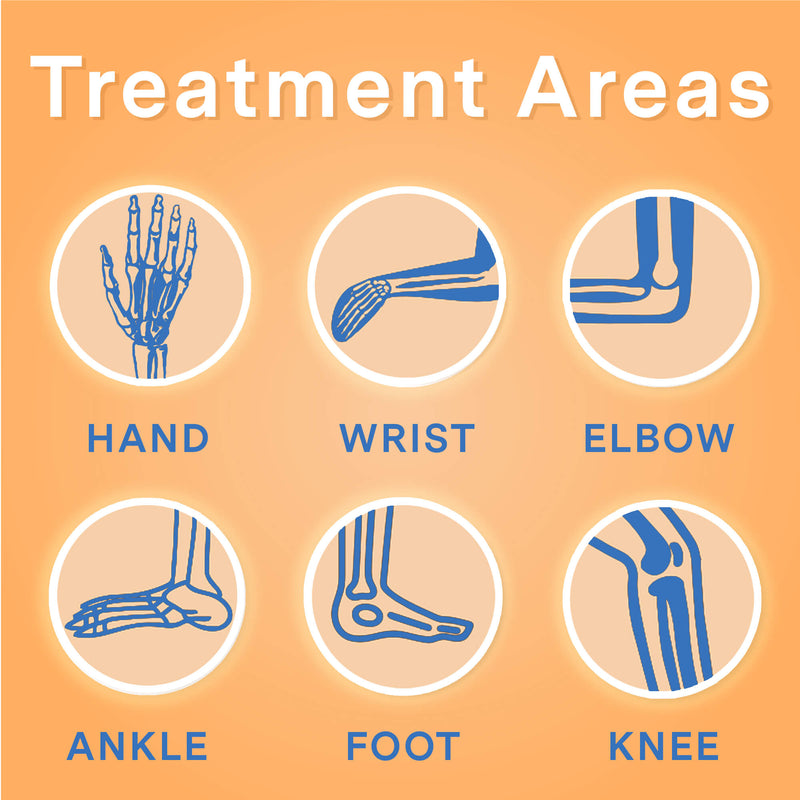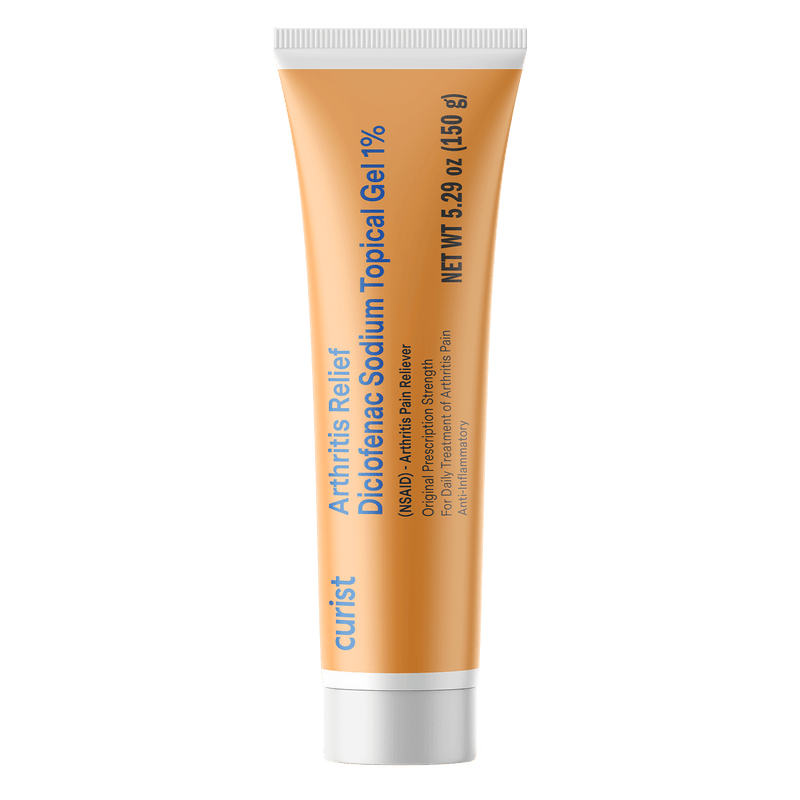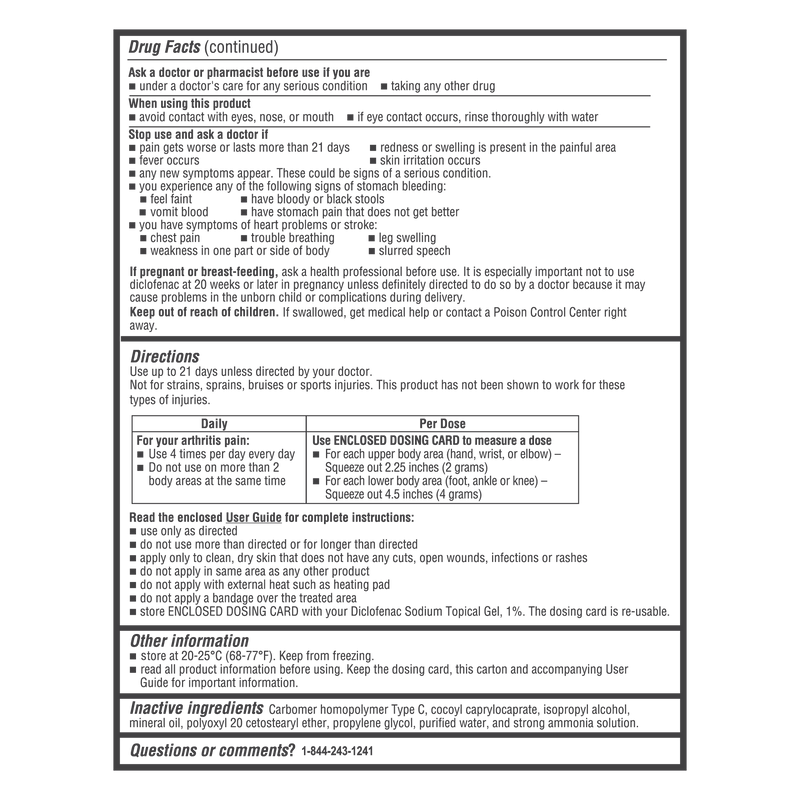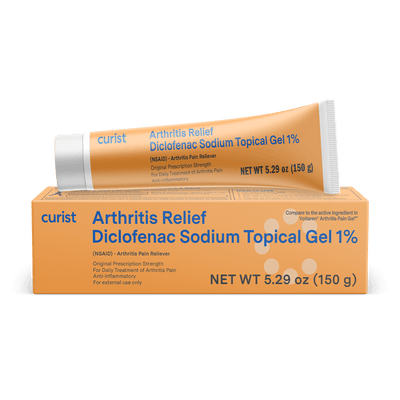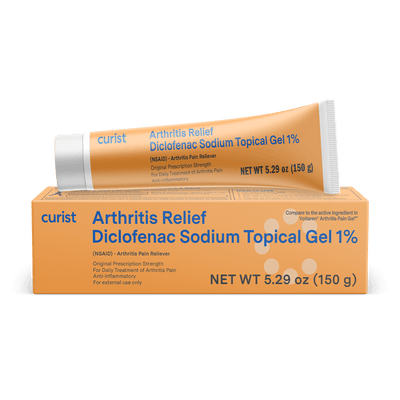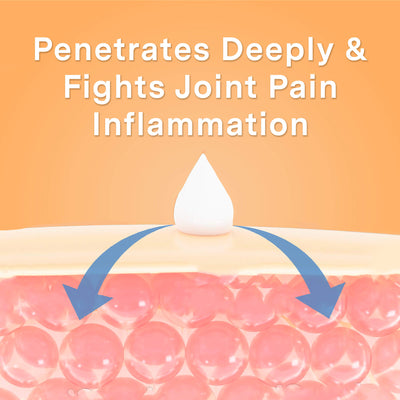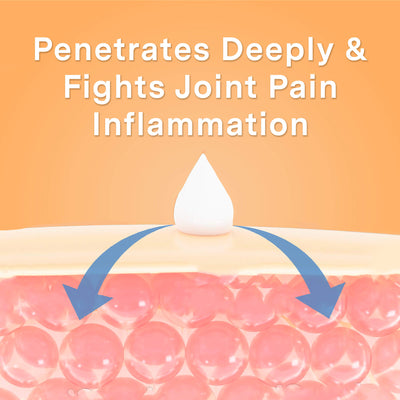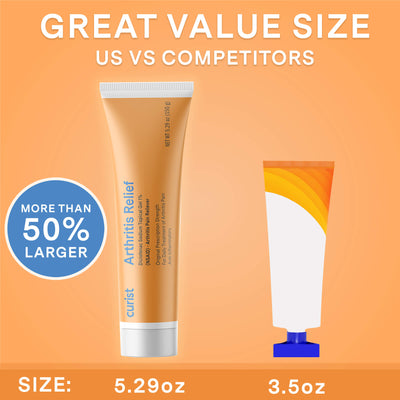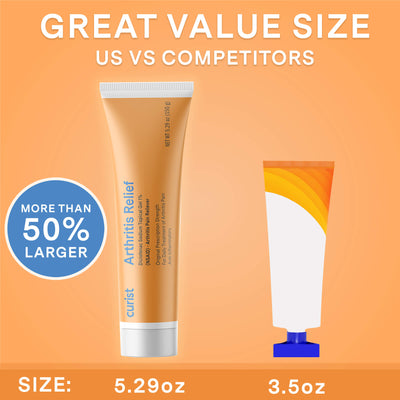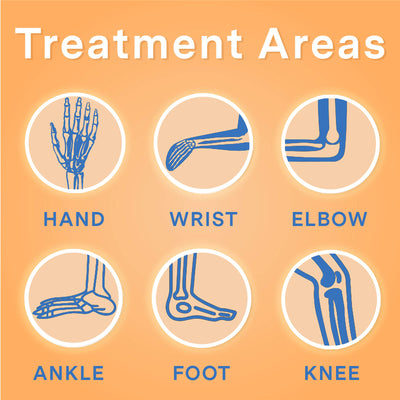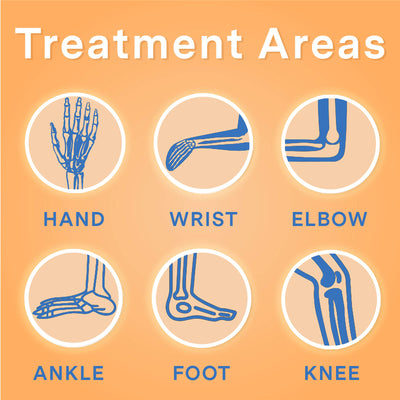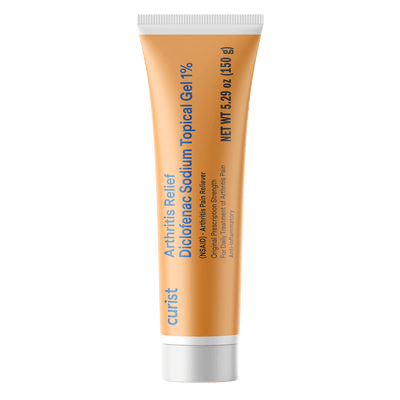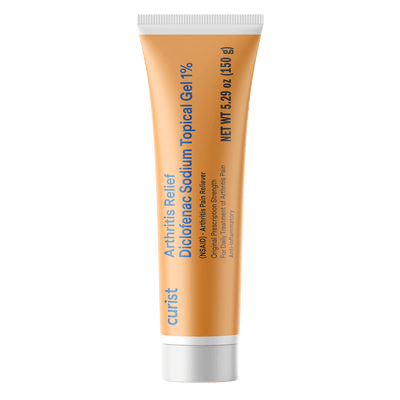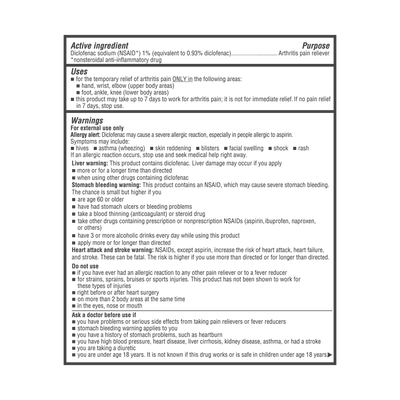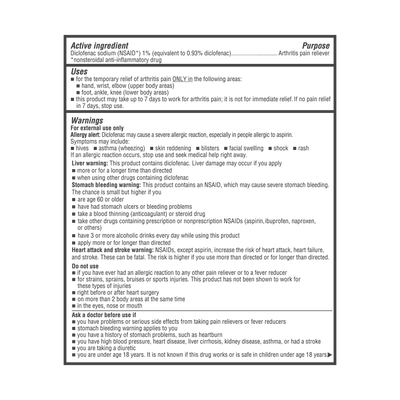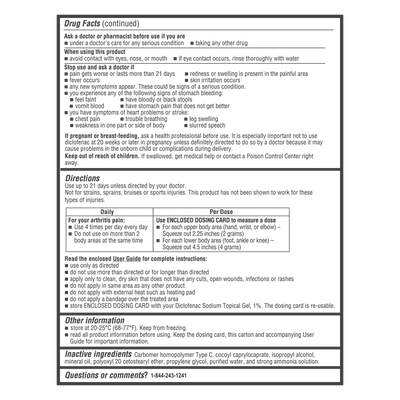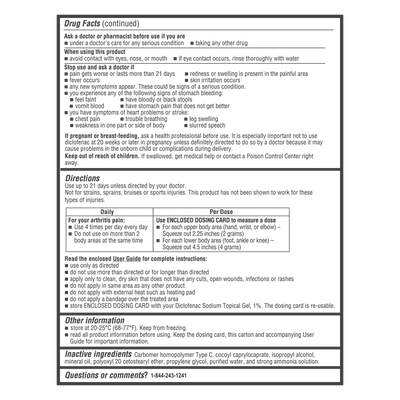 Value Size

Original Prescription Strength

Anti-Inflammatory

Use up to 4x Daily
Are You...
Looking for topical relief of arthritis pain and joint stiffness?
Good For
Arthritis relief in hands, wrists, elbows, feet, ankles, and knees
Not For
Do not ingest (external use only).
Goodbye Voltaren, Hello Savings.
Our Best Arthritis Gel
Curist Arthritis Relief packs original prescription strength relief with diclofenac 1% gel. This non-steroidal anti-inflammatory gel (NSAID) alleviates joint pain and promotes increased mobility by inhibiting COX, an enzyme involved in inflammation. With the help of this topical arthritis gel, you can treat aches and stiffness in the elbows, wrists, hands, knees, ankles, and feet right at home.
Doctor Pro Tip
"A topical NSAID, like other kinds of topicals, can be rubbed on the skin over sore joints to relieve pain, without the stomach upset or cardiovascular risks of oral medication."
Arthritis Foundation
Everything You Need to Know About Diclofenac Gel
Diclofenac Gel 1% FAQ
---
Arthritis encompasses a large range of conditions related to joint pain and inflammation. Symptoms typically include chronic pain, stiffness, and swelling. Over time, this may progress to permanent joint changes.
Many treatment options exist to help manage arthritis pain and progression. Depending on your condition, you may be prescribed an arthritis treatment plan that includes a disease-modifying antirheumatic drug (DMARD), glucocorticoid, TNF inhibitor, non-TNF biologic, NSAID, and/or antidepressant. Common OTC treatments for arthritis include glucosamine and chondroitin, fish oil, topical pain relieving products (often containing NSAIDs, capsaicin, camphor, menthol, or lidocaine), and oral NSAIDs such as ibuprofen and naproxen.

---
Voltaren is a brand name version of diclofenac gel. There are many brands of diclofenac gel, including Voltaren and Curist Diclofenac Gel. Curist Diclofenac Gel has the same strength of diclofenac (1%) as Voltaren and provides equal pain relief, but for a fraction of the price.
---
Diclofenac 1% gel is approved for non-prescription, over-the-counter use. Prescription versions of diclofenac include higher strength (1.5% and 2%) topical solutions, patches, as well as oral formulations.
---
Diclofenac 1% gel is an OTC medication used for arthritis joint pain. Diclofenac 3% gel is a prescription medication for actinic keratosis, a condition characterized by precancerous patches of skin growth caused by UV exposure.
---
This product contains diclofenac, which is a nonsteroidal anti-inflammatory drug (NSAID). Much like other NSAIDs, it works by inhibiting an enzyme that leads to the production of prostaglandins and thromboxanes, which are important inflammatory mediators. Blocking this response ultimately results in reduced inflammation, pain, fever, and swelling.
---
Rub diclofenac gel into up to two painful joints at a time, up to four times daily. Apply on clean, dry, intact skin and use the included dosing card to help measure the correct amount for application. Do not apply heat or wash the area for at least 1 hour after application.
---
After applying diclofenac gel four times daily, you will notice a difference in joint pain after a few days, and can expect to see significant pain relief within 7 days. The effects last about 1-2 days after final application.
---
Diclofenac gel has been approved to treat joint pain in the hands, wrists, elbows, knees, ankles, and feet. It is not recommended for use in other areas with pain deeper below the surface of the skin, such as the spine, hip, or shoulder. Diclofenac gel should not be applied on skin that is broken, irritated, infected, swollen, or covered with rash.
---
The most common side effect of diclofenac gel is irritation at the application site, although some may also experience stomach pain, constipation, diarrhea, heartburn, nausea, vomiting, and dizziness. Caution is advised if you have cardiovascular disease, kidney or liver impairment, aspirin-sensitive asthma, or a history of ulcer disease or gastrointestinal bleeding. Discuss pain relief options with your doctor before using this medication.
Diclofenac should not be used if you:
1. Have a known hypersensitivity or allergic reaction to diclofenac, aspirin, or other NSAIDs
2. Are undergoing CABG surgery
3. Are in the third trimester of pregnancy
---
It is not recommended to use diclofenac gel with other pain medications (including NSAIDs and aspirin). Discuss pain relief options with your doctor before adding this medication to your routine.
---
Want to Learn More About Diclofenac for Arthritis Relief?
Learn more about all things arthritis - symptoms, treatments, and tips!